2012
Entry #1753, Tue, December 04, 2012, 21:55 CET (
Life in General
)
(posted when I was 34 years old.)
---
I'm not entirely sure what to do with this fourteen year old project of mine. The fourteen year mark actually came last Saturday, and I didn't notice until just now. I was actually looking at how much effort would be required to give 2012 at least a cursory summary on here. 2012, it turns out, is my worst year of blogging by a factor of about 4 (assuming I actually post this this year).
I was going to blame my abysmal output in 2012 on events in 2011, but my 2011 output was half decent—40 total entries, with at least one every month. Upon further reflection, the causes of my near silence are more complicated, as evidenced by the creation date of this file I'm writing in—May 10, 2012. I wanted to write a good entry about Christmas, and the longer I went without finishing it, the harder it became and the more it obstructed any other entries. At least I was clever enough to document my trip to Canada while it was still fresh in my memory. Another factor is the long neglected virtual machine (last booted: January 30th) housing a half completed new version of my blogging software. And facebook competes for attention; it is easier to use from a mobile device and reaches a greater audience.
But despite these factors, I really don't want to give up on this. I still regularly use my log—to look up things I've written in the past. And so its utility remains evident. The abovementioned factors are ultimately just excuses, and if I want this to continue to be useful in the future, I'm going to have to keep it up to date.
So, down to business. I went through my notes, checked my facebook timeline, and have done my best to remember the year to date. Let's do this.
The year started in Colorado for me. Mamie and I flew to Crested Butte to spend Christmas with Mom, Dad, and Diana. Annie joined us for a week as well. It was the first Christmas since 2005 that the whole family was together. It was very nice. I only went skiing once—the snow wasn't very good—but that was OK: we played mini golf instead. The resort had set up a mini golf course at the base area and we got all six of us up there for a game. It was remarkably fun.
I also started a genealogy project. With Mom's help I found much of the material she had, and based on that I was able to find quite a lot of information. It is still a work in progress, and probably a topic for a future log entry, but a few highlights: I have found nine ancestors who are registered patriots with the Daughters of the American Revolution; my American heritage is primarily English, Irish, and German; quite a few ancestors were in America by the 17th century, like William Chase, who came to Massachusetts from England in 1630; this handsome fellow is my great great grandfather:

Brian also flew up to Gunnison and took me on a flight around Crested Butte in his Bellanca. It was quite excellent. Here's me pretending to be a pilot with the Crested Butte ski area in the background: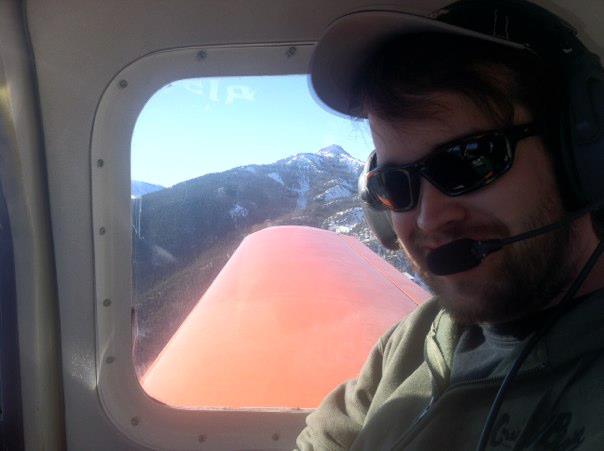 Back in Munich, Steve and I began home brewing. We did a bunch of it from January to May, but then took a break for the summer. We started up again a couple weeks ago and our next brew date is set for next weekend. We've made some half decent beers.
Speaking of Steve, I just discovered that I apparently never wrote about my trip to Stockholm last year. And facebook has no knowledge of this trip either. But I still have the email itinerary that Lufthansa sent me, so I know I flew up on July 8 and flew back on July 10. I visited Steve and Kim while they were still living up there and had a fantastic time. The weather was awesome. We drank a bunch of great beers. We toured around the city some and it was very pretty. I marvelled at it being not entirely dark at midnight.
So back to somewhat chronological order. At the end of February, Tony moved back to Canada. So instead of staying in the big place on my own or finding a new flatmate, I found a smaller place. In fact, I now live above Mamie. It's a small place, but at least I can see the Alps. Sometimes.
For Easter, Mamie, Steve, Kim and I drove to Belgium. We spent Friday, our first night, in Diest, a nice little town. We enjoyed some beers and cheese at a few different bars in town. The next day we visited Overpelt (where we bought a bunch of beer and chocolate) and Beverlo (where we bought some brewing supplies), then drove to Aalter, where we spent the next two nights. On Sunday we took a train into Bruges, where we did some touristing, including a canal tour, and also some sitting around in famous beer bars, drinking good beers. On Easter Monday we drove back to Munich.
At the beginning of May, Branden visited Munich. We did the usual beergardening and Hüttenwirting. We also played some Starcraft. And we went on a hike, to the Tatzelwurm, a waterfall in the Bavarian Alps. We were joined by Steve, Steve's friend Paul, Sky, and Ivy. We got completely soaked in the rain, but luckily the rain didn't last long.
Kevin was in Munich in early July. He played some 4th of July frisbee with us. I was very patriotic: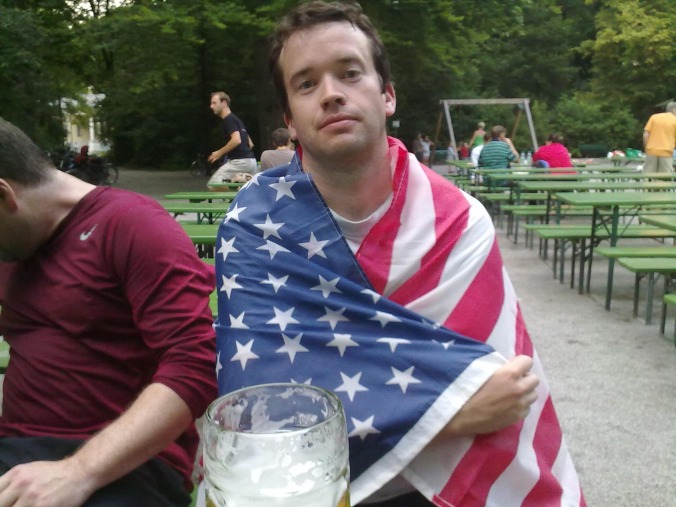 Shortly thereafter I had my well documented Canada trip. Inspired by the hike to the Tatzelwurm, I bought a pair of hiking boots in Canada. I got to use them at least a few times this year. Hikes:
August 15 hiked to the Schellenberger Eishöhle, which I had previously visited. This time I took Mamie, Ivy, Sky, AnVy, and Ingrid.
September 15 hiked the Brecherspitz with Ingrid, Sky, AnVy, Carsten, Megha and Nikhil.
October 3 hiked the Hirschberg with Mamie, Annie, Dad, Ingrid, Bill, Sky and Sonsoles.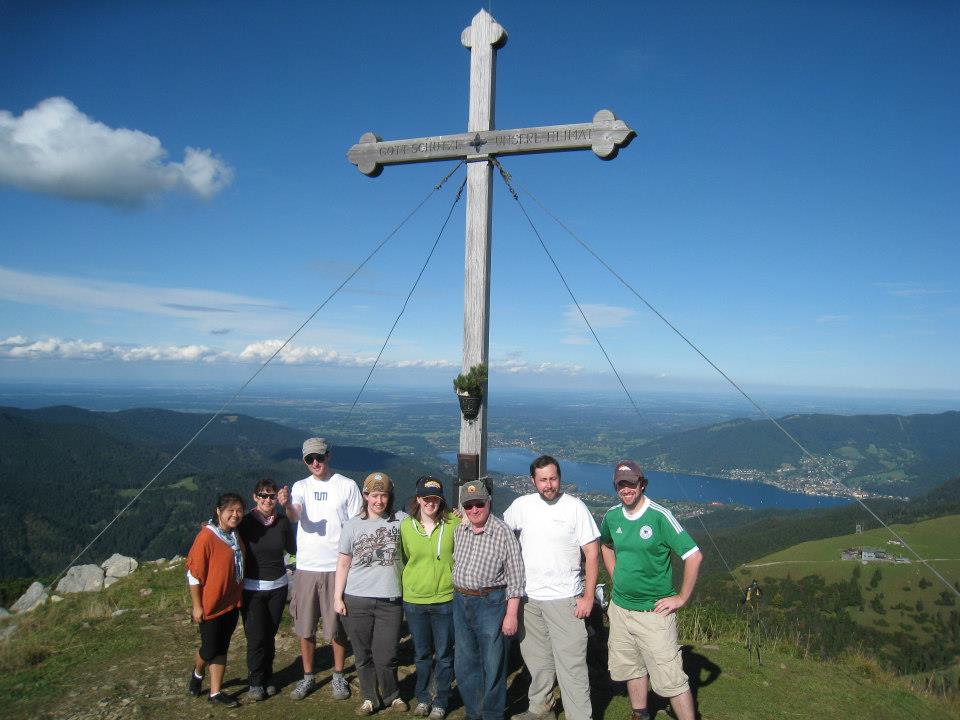 Now that it's December, the hiking season might be over. I also did a couple of bike rides to destinations out of town, including to Starnberg and Kloster Andechs. We also did a few other daytrips this summer, including to Regensburg, Salzburg, and Herrenchiemsee.
During my research, I came across the following sentence that I wrote, and I thought it was great: "Anyway, this is now a parenthetical aside that has spanned a paragraph and a half."
For Oktoberfest this year, my first visitor was Brian. He was here for the opening weekend. We saw the parade and grabbed some beers. Also visited the Deutsches Museum. Because you can never sit on a Cray too many times in your life. Dad and Annie came to visit for the second week. Annie was only here for the one week, during which we went to Wiesn twice. Dad stayed two more weeks afterwards. Mamie, Dad and I drove to Overpelt, stopping in Altkirch to pick up Uncle Piet. We spent one night longer in Overpelt than expected, because the rental car decided to break down on the day we tried to leave.
We had a pretty good Ultimate Frisbee season this year. I organized two glowstick frisbee games once it got to be too dark to play regularly on Wednesdays.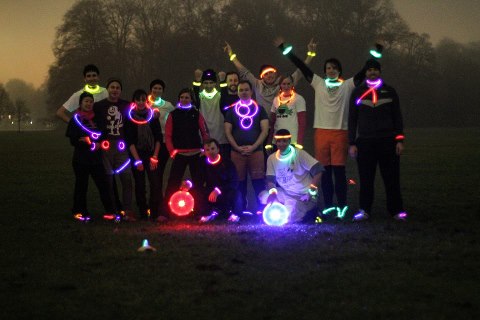 I did not see many shows this year. I did see the Bouncing Souls. The Downtown Struts, a Chicago band I had never heard of before, opened for them. They may be my favorite band of 2012. I also went to a show called The Sound of Munich Now, that featured 20 Munich bands, each playing for fifteen minutes. It was a bit much, but I did discover a few good local bands.
This year I also got back into board games. Mamie, Carsten, Sky, AnVy and Bill are all regular participants in game nights.
For anyone paying attention, my em dashes in this entry follow the Chicago Manual of Style.
---
Nobody has rated this entry.
Comments for this log entry:
Yay by Nairubi (Sun, December 09, 2012, 16:08)
I've missed your journaling - welcome back.
---
[
previous entry
] [
next entry
]