Pete's Log: Navy beats ND
Entry #1543, Sun, November 04, 2007, 01:05 CDT (
Sports and Athletics
)
(posted when I was 29 years old.)
---
For the first time in my life, Navy has defeated Notre Dame. And, of course, I was there.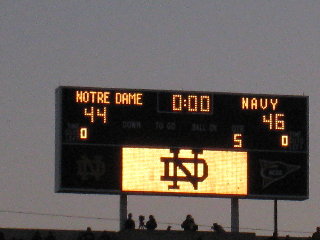 ---
Nobody has rated this entry.
Comments for this log entry
Untitled Comment by junodog (Mon, November 05, 2007, 17:32)
and you didn't answer when i called Annie's phone. IT'S ALL YOUR FAULT.