Pete's Log: tulibu dibu douchoo
Entry #1611, (Life in General)
(posted when I was 30 years old.)
---
To make up for the 27 entry shortfall for December, here's an epic entry, that begins way back in May.
Back then I found myself marveling at how much I had flown during the past month, and I started a log entry that has been postponed a number of times since. It began with this image: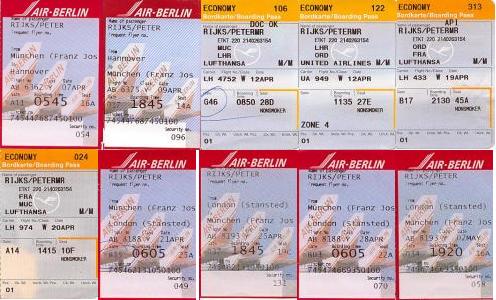 I went on to observe "Though after putting all the stubs together, it doesn't seem like as much as it felt like. The last time I was in the office was April 4."
During one of my many flights last spring, one of the monitors at MUC that displays flight information had the "Windows has discovered new hardware" popup obscuring a number of flights. I wondered what sort of new hardware had been added. I also thought I should have had my camera with me. Now that I have a new phone, this is no longer a concern.
I realized this summer that it had been far too long since I'd done a 'cat somerandombinary > /dev/audio'. I corrected this deficiency.
In April I got sent to Chicago for a week of training. I stayed with Annie while there. It was fun. An improv class Annie was in was supposed to do a show, but it got canceled because not enough tickets were sold. But the group was kind enough to put on a private performance for me. It was quite entertaining. I also got to see the Doaks and Emily while I was there.
I also spent a couple weeks in Great Missenden, an exurb of London. Great Missenden is a cute little Buckinghamshire town, but not a terribly exciting place to spend a couple weeks. I did get to experience the original Hard Rock Cafe in London, however. I was a bit underwhelmed.
I spent much of my time between May and August in Ludwigshafen am Rhein. To make up for lost Munich time, I had some pretty crazy weekends. For a while there seemed to be a different party almost every Saturday. Many of them had themes. One was a costume party where your costume was supposed to be a character out of a movie. I was Travis Bickle from Taxi Driver. Another theme was to dress up as a rock star. I chose to be a punk rocker. Altogether, I've had three mohawks in 2008. Here's me as Travis. It's my facebook profile picture. The punk rock picture you've seen already.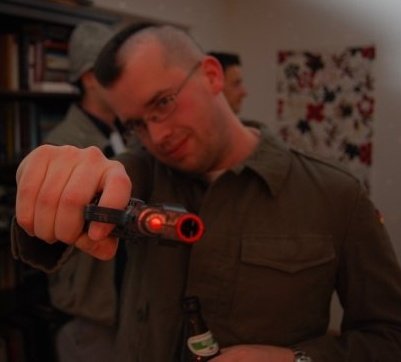 The other aspect of weekends last summer was the usual Sunday Ultimate Frisbee games. The subsequent beergarden visits always reminded me of why I love the lifestyle in Munich. Which was good, since all my travel had been getting me down about life in Germany.
One day while wandering around Ludwigshafen, I walked by some school's display where they had depictions of the solar system created by various children. I sadly noted the absence of Pluto.
Rebecca came to visit me at the end of June and stayed two weeks. Good times were had.
In August I went camping with Tony, Dan, Ewelina, Scott and Eli in the Berchtesgaden area. We hiked up a mountain and toured an ice cave, which was nifty. We also visited the Eagle's Nest.
At the end of August I flew to Colorado. I spent a week chilling in Crested Butte, then went to my cousin Jane's wedding in Denver, where I got to see a bunch of extended family. The wedding was right after the Democratic convention, and I convinced Annie to "steal" an Obama campaign sign out of a trashcan for me. I brought it back to Germany and to my office. After Denver, Dad and I drove Diana back to Montana State U in Bozeman for the fall semester. Bozeman's a neat little town. After spending a couple nights there, Dad and I drove back to CO via Yellowstone National Park and the Buffalo Bill Museum. Dad dropped me off at Andy's house near Boulder where I got to spend one wonderful night. Andy was kind enough to drive me to the airport the next morning, and back to Munich I flew.
Montana and Wyoming brought the number of states (and Districts of Columbia) I've visited up to 33, not counting states I've only driven through (e.g. Rhode Island, Iowa and Tennessee), had layovers in (e.g. Georgia and Kentucky), or don't remember (e.g. when I was a wee Pete). 18 to go.
I spent December 4 in Nürnberg. For reasons having to do with Lufthansa status miles, I flew there that morning and flew home the same night. It would have been faster for me to go there by train. But the absurdity of it all amused me. I mostly just wandered around the old town and the christmas markets. It's a nice little city. There's a number of other cities in Bavaria that I should visit. Seeing how they're so close and all. Though I'm unlikely to fly to the rest of them.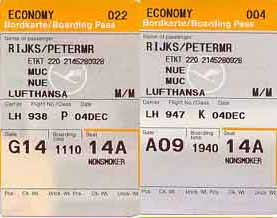 To celebrate Scott's birthday, 18 of us spent the weekend of December 13/14 skiing at Hintertux in Austria. We stayed at a hut that was halfway up the mountain, so once the lifts closed for the day, you were stuck. It was an excellent weekend. I like skiing. For aerodynamic purposes, I shaved most of my head. This was the occasion of my third mohawk of 2008.
Miriam, an ND friend, was in Munich a few days in December, and I managed to meet up with her and her boyfriend for a few drinks.
2008 for me ended in Japan. I flew to Nagoya on the 21st and stayed with Mamie until January 7. We mostly hung out in Nagoya, but spent two days in Tokyo and another day in Kyoto. We were in Tokyo for the New Year, and were underneath Tokyo Tower when midnight struck. This was celebrated by turning the lighting of the tower back on (it had been turned off about half an hour earlier). Beyond that, it was actually pretty anticlimactic.
In Tokyo, we visited the Senso-ji temple in Asakusa, Akihabara, Meiji Jingu shrine, Harajuku, Shinjuku (including the busiest train station in the world!), Roppongi, the Sony Center (I was disappointed by the lack of robots), and maybe a little more.
In Kyoto we did a lot of wandering around in the temple area of town. There were a lot of Japanese people there as well, apparently because of the New Year. At one temple there was a huge market going on with food and trinkets and New Yearsy things on sale. We also saw the old imperial palace in Kyoto.
Most of the time we were in Nagoya. There we visited Nagoya Castle, Osu Kannon temple, the aquarium, the Toyota Commemorative Museum of Industry and Technology (which was awesome), some other temple whose name I forget. We also were in Sakae a number of time for various shopping adventures.
Much time was spent just chilling, which to me is also an important part of a vacation. All in all it was a great trip. Seeing Mamie was awesome. I had some great Japanese food. And I want to go back again sometime.
One highlight of 2008 has been the discovery of Hüttenwirt, a little Bavarian pub across the street from our new apartment. I'd been there twice before Oktoberfest, and had found the food excellent and the atmosphere charming. But during Oktoberfest, with John, Branden, Randy, and Kelly, we found ourselves unable to get into any tents on a rainy Thursday. So we decided to go to Hüttenwirt instead. Antje, who owns the place with her husband, treated us extraordinarily well, and we returned a number of times during Oktoberfest. We may have spent more time there than at Theresienwiese. Although we still did manage a lot of time at Theresienwiese too.
Since then, it's become a regular haunt for us. Tony and I now have Krüge with our names on them. Antje tends to reserve a table for us for special events (Country night, Christmas party, etc...). I walk past it on my way home from the subway, so it's always tempting to stop by after work.
Hüttenwirt country night: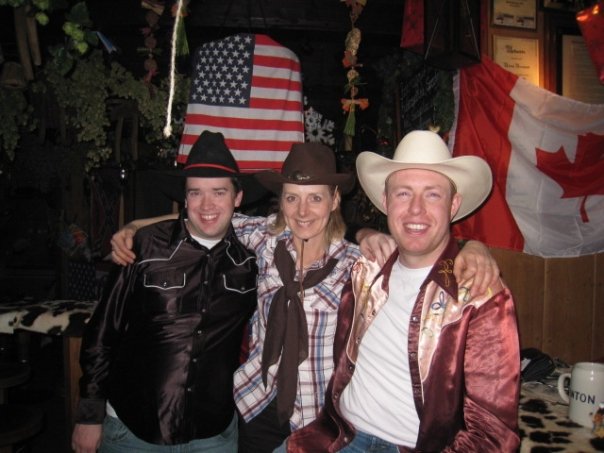 So when I tallied up the number of days I spent away from Munich in 2007, I thought 99 was quite a few. For 2008, the number is 161 (39 personal, 122 work), making up 44% of the year. Again, I did not count day trips. In May, June, and August, I spent 20 or more days away from home, with May setting the record at 22.
My presidential bid failed. I can only blame myself for personally not destroying enough Zerg.
There. Not exactly coherent or well written, but now all that is out of the way. Happy 2009 everybody!
Oh, and I finally put pictures from my trip to Riyadh online. Only a year and a half late...
---