Pete's Log: Stampede!
Entry #1752, (Travel)
(posted when I was 34 years old.)
---
On July 5 I flew to Calgary, Alberta, Canada, to hang out with Tony and experience the Stampede. Tony was kind enough to pick me up at the airport; I got in at about 4 pm. We dropped off my things and then we battled my jetlag by wandering around Calgary and trying beers at a couple places. I managed to stay up until 10 or 11 pm, and that pretty much took care of my jet lag.
On Friday we headed downtown to see the Stampede parade. We saw many Canadian marching bands, several from the US, and also one band each from Taiwan, Denmark, and Germany. We only watched about half the parade, though. It was a long one. Next we bought a cowboy hat for me, so that I could be properly attired for the week. A late diner brunch followed at Nellie's Cosmic Café. Tony's friend Steve arrived from Edmonton that afternoon and we had steaks for dinner. Yum yum good Canadian steaks. Afterwards we headed to one of the many stampede beergardens set up around town, this one at the Rose and Crown pub. An entertaining evening was had.
Saturday we went to the Galaxie Diner for breakfast and milkshakes. It was excellent. The rest of the day was spent with a Stagette party doing a pub crawl. We visited four Calgary establishments, including the Cowboys tent by the Stampede grounds.
Sunday we grabbed lunch at Peters' Drive-In, where I got an amazing Maple-Oreo milkshake. Steve then headed back towards Edmonton, and Tony and I drove to Banff. There we wandered around town some, grabbed a beer at Banff Ave. Brewing Co., toured the Banff Park Museum, and then met up with Alex, a Canadian we met in Munich who now lives in Banff. We returned to Banff Ave Brewing for dinner and some more excellent beers. Tony and I stopped by the bar at the local hostel before heading to the hotel. From the balcony we saw some Aurora Borealis, which was awesome. This was the view from our room: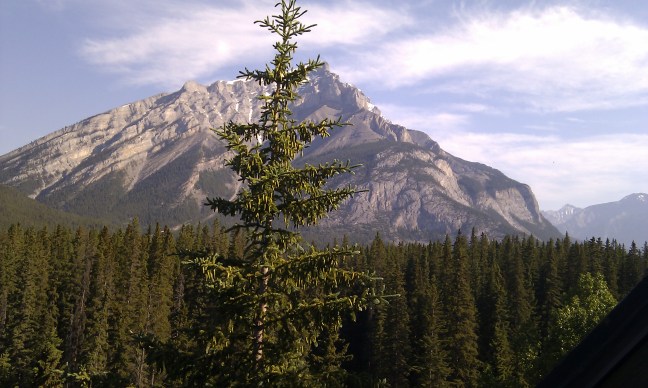 Monday we hiked up Sulphur Mountain. It took us about an hour and a half. The hike was nice and quiet until we got to the top, since there is a gondola up to the top. The top was packed with people. We took the gondola back down, then drove back to Calgary. Monday evening Tony's Ultimate team had a league game and they were kind enough to let me play with them. They play fancier frisbee than the toytown group, so I got to learn how zone defense works in Ultimate. It was fun.
Tuesday Tony and I toured the Big Rock Brewery. It was a good tour. Previously I have only toured the Budweiser brewery and various microbreweries. It was interesting to see something in between. Tuesday afternoon / evening was Lederhosen time. Tony had met a few Bavarians who were touring Canada and had brought their Lederhosen. So four of us went to Stampede in Lederhosen and cowboy hats. We got into the Nashville North tent fairly early and it turned into quite the remarkable evening.
Wednesday we took it easy. We went to a mall so I could do some shopping and watched some movies.
Thursday Tony's sister Andrea arrived from Vancouver. We grabbed some beer and burgers and I had my first poutine in Canada: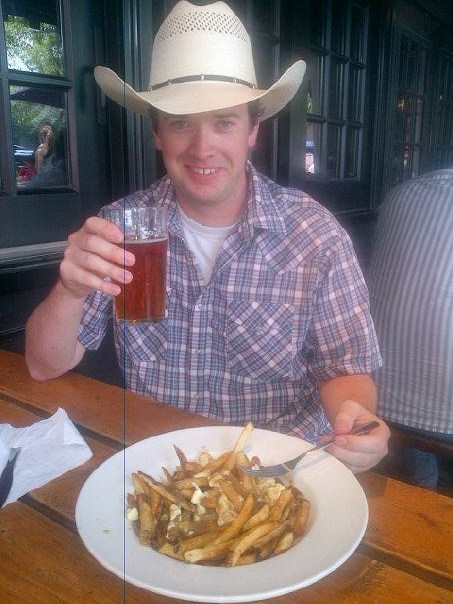 Alex and his girlfriend came into Calgary too. We then headed to the Stampede and did some rides and hung out in a beergarden for a bit. Tents were too busy to try to get into, so we stopped by a place with 100 beers on tap - my favorite of the ones I tried was the Alley Kat pale ale. We then headed to The Rhino for bacon in a bucket and beer in mason jars. Great stuff.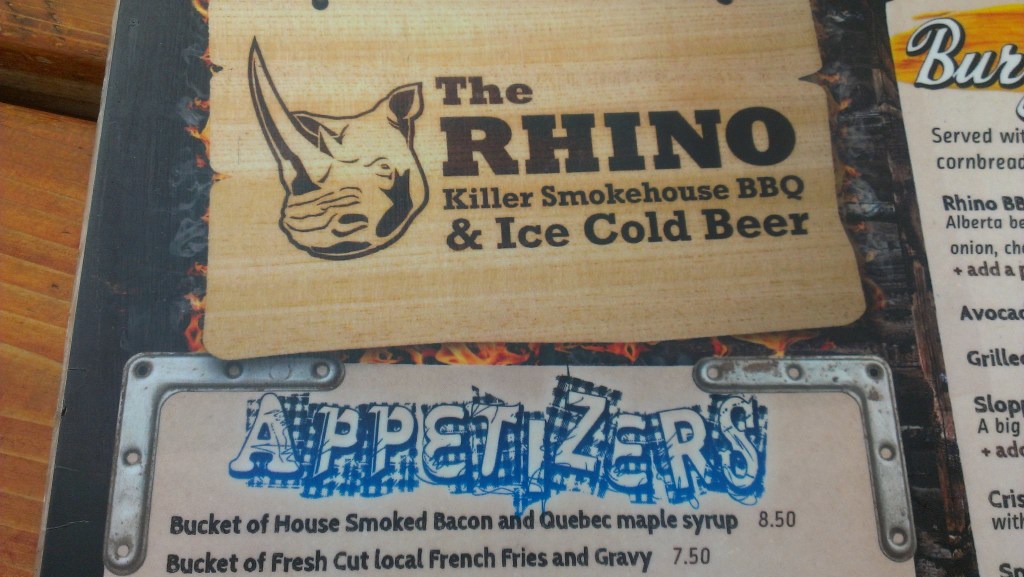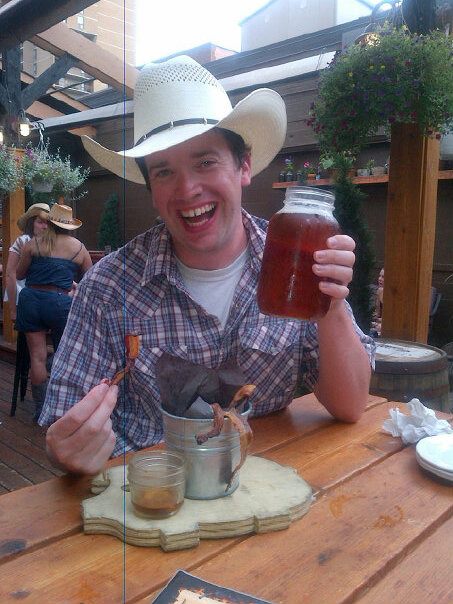 Friday was another lazy day, though we did buy fixings for Caesars and had some of those at Tony's place.
Saturday was finally rodeo day. Well, the whole week had been rodeo week, but we actually finally made it into the grandstand and watched some events. I think one afternoon of rodeo was enough. We also did a bunch of rides before the rodeo. After the rodeo, we tried to get into Nashville North, but the line was ridiculous. So instead we headed to Wurst, a Bavarian beer hall. The service was unimpressive, though, so we headed back to The Rhino instead. We ended the evening in the backyard of some friends of Tony's where they had a campfire going. They even had marshmallows to grill.
Sunday was mostly packing. We went to the Mission Diner, where we had bacon caesars.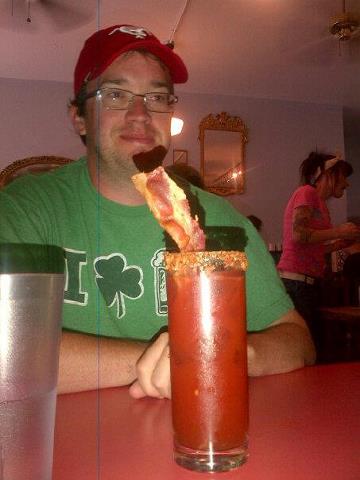 At the airport my suitcase was 6 pounds over the 50 pounds limit. So I moved a bunch of stuff to my backpack. However, the conveyor system was broken, so they couldn't take my bag there and instead I had to stand in another line with my bag to drop it off. So in that line I moved all the stuff back to the bag. Anarchy! My flight to Frankfurt was delayed for two hours because of thunderstorms. So I missed my connecting flight to Munich. But I made it home and had an awesome trip and the weather in Calgary was great the rest of the time. So no complaints.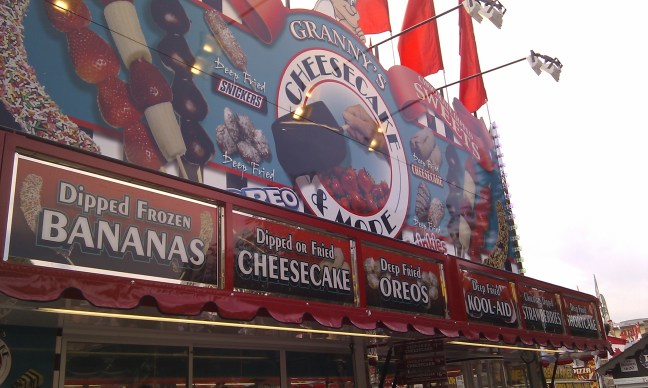 ---