---
Jamie and I had quite the evening. I think we needed it. Life's been beating on us a bit lately. JB's daycare had a positive Covid case last week. They told the infant and toddler classes to quarantine, but JB's in the Twos class, so no quarantine order for her. It's all so exhausting.
So JB went to spend the night at Jamie's parents. Jamie and I had a hard time deciding how to spend our free time, but ended up thinking we should hit up the food court at Oak Brook mall and then Barnes & Noble. But after parking as we were walking up to the mall, a fancy(ish) restaurant that shall remain unnamed caught our fancy. We've walked past it many times, but tonight we saw their outdoor seating area was empty and we decided that despite our casual attire we needed a fancy dinner.
Initially we weren't planning to go too wild with our orders, but we saw that they had a couple Omakase offerings. We have fond memories of a fancy Omakase evening in New York City back in 2017, and it's been a long time since we've had a fancy night out, so we decided to be silly and order their "decadent" Omakase. I also added the "decadent" wine pairing to my order. This was around 7 pm. Barnes & Noble closes at 9 pm on Saturdays, so we figured maybe we'd still have time for that. This is foreshadowing.
When we ordered, our server asked if we had any allergies, and we told them Jamie had a Shiitake allergy. OK, no problem.
The first few courses came out with little delay. The food was incredible. The only issue at first was that I wasn't being told what any of my wine pairings were except for the third course (the wine pairing for the third course was a Riesling).
Then things started going off the rails a bit. The fourth course wine didn't come until after the fourth course was over. Then our server brought out the fifth course wine and made a joke about how this time the wine pairing was here before the course. Little did she know that it would be 45 minutes before we saw the fifth course. At least she was attentive enough to realize things were taking too long, and after bugging the kitchen a few times, she let the manager know we'd been waiting too long. So he came by and poured me a second helping of the course five wine (which I still don't know what it was) and also offered Jamie more drinks.
Eventually the fifth course came out. Our server started stirring this delicious smelling rice stew in front of us, but as she was telling us its ingredients she realized she should double check if it had Shiitakes. It did. So as a consolation prize she offered Jamie a small bowl of white rice.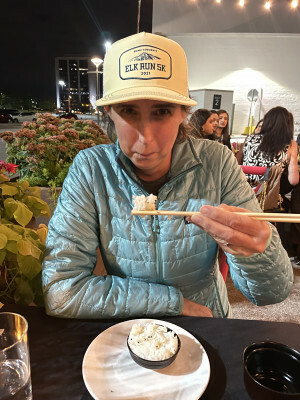 But luckily it turned out the rice stew was only part of the fifth course and we also got some (American) Wagyu beef. So Jamie wasn't stuck with only rice.
At this point we had been laughing a lot and enjoying ourselves, but we had also been there for well over two hours, so we were debating asking for the check and bailing. But before we could do so they brought out the dessert course and it was also delicious. So we ate that. By the time we were done Barnes and Noble had been closed for an hour and even our backup joke idea of browsing Target's book section no longer worked since Target was now also closed.
So we had a grand old time. The food really was great and would have been worth the price under other circumstances. The circumstances themselves were pretty funny and gave us a good chance to laugh, but it's hard to recommend the restaurant based on our experience. It was easily the fanciest meal we've had in several years. And I'm real glad we could laugh about it.
---
Played soccer again on Thursday. Also the Thursday before but it's become enough of a thing to not write about every time. There were seven of us this time, all regulars - Adam, Andrew, Bert, Jove, Louis and Duc. Still waiting to hit that elusive 4v4 again. It's getting dark pretty quick these days, though, so this time we set up our own lights which felt just kind of like a joke at first, but they actually worked well enough that we played a good 30+ minutes past sunset.
Afterwards Andrew, Bert and I hit up Imperial Oak. Still hoping to someday talk a few of the others into joining us for a beer.
---