Pete's Log: Weekend de la Biere 2007
Entry #1512, (Travel)
(posted when I was 29 years old.)
---
Last weekend, Dave and I flew to Brussels for the 9th Annual Beer Weekend. We drank 25 distinct Belgian beers. I collected coasters!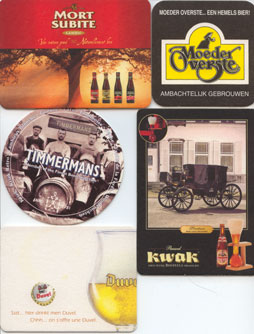 We flew from Munich on Friday morning and had our first beer, a Hoegaarden, with lunch in Brussels. We then had a Mort Subite Kriek at the Mort Subite Café. We had some time to kill before the festival started, so we checked out the comic book museum. It was fun to see comics I had read as a child, though Dave only recognized the Smurfs.
Our first beer at the festival was a Bavik Petrus Tripel, followed by a Kasteelbier Donker, which was crazy sweet! We then drank some Kwak, which probably wins the prize for craziest glass I drank from over the weekend.
We took a break for dinner, during which I drank a Duvel and Dave a Belle-Vue Gueuze.
Returning to the beer fest, we finished off the night with a De Silly Forest and a Deus Brut de Flandres.
We did wind up a bit drunk by the end of Friday, but Saturday we paced ourselves better. We started at 11 am with a Hoegaarden Rosé. After a waffle break, we then had a Lindemans Gueuze Cuvée René, which I found to be almost too sour for my tastes.
We then made our way to the Atomium, a 300-foot tall enlargement of an iron crystal. We paid the 9 euro to get inside. The view from the top was neat, but overall the experience wasn't worth the 9 euro. Most of the thing's appeal comes from its outward appearance.
We ate lunch in the top sphere of the Atomium, where I drank a Jupiler and Dave a Leffe Blond. The restaurant was unimpressive. I had ass entrees and pain for lunch...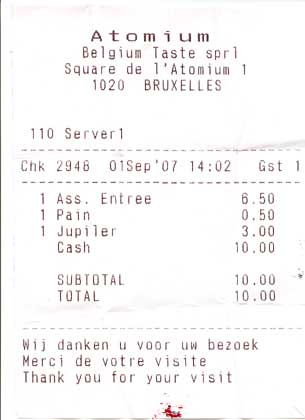 We returned to the festival and had some Maredsous Donker 8°, Affligem Christmas, and Moeder Overste. We then ate dinner in La Rose Blanche on the Grand Place. We had beef stew (Stoofvlees) with a Blanche de brugs. I can definitely recommend this restaurant. It was quite tasty.
Back at the beer fest, we had a Timmermans Woudvrucht (Fruits de la Foret), which was my favorite fruit beer of the weekend, and in my top three overall. Then a Black Hole. We found a famous theater/bar down an alley near the Grand Place, where we drank a Chimay Bleue. Then Creme Brulee for dessert at some other restaurant. I cheated and drank a Calvados with my dessert, while Dave had a Mort Subite Gueuze. Our last beer at the festival was a Bon Secours Brune.
On the way back to the hotel, Dave decided we needed one last beer. At that point we'd had 12 drinks spread over 12 hours and were definitely pretty sober. We'd paced ourselves well. So one more beer it was, an Orval. We drank our Orvals in the hotel while playing cards.
Sunday we rented a car and drove to Bruges. There I had a Leffe Blonde with lunch, while Dave stuck to apple juice. We toured the city, including a canal ride, then found ourselves at De Halve Maan, the last remaining operating brewery within the old city. There we had a Brugse Zot Blond. Then with dinner a Kriek Mystic. We finished the evening at Staminee de Garre, a neat little bar down an alley near the city center. There we had a De Garre Tripel, which both of us agreed was the best beer of the trip.
Monday morning we took a tour of the Halve Maan brewery, which was neat. It included a view over Brugge from the roof of the brewery. The tour ticket includes a beer at the end. However, we did not realize we did not have a choice in beer. We had assumed we could get a Brugse Zot Bruin, but it turned out we could only get a Brugse Zot Blond. So that was the one beer we had twice during the weekend. However, we did not order this beer. We wanted Bruin. So we can still say we never ordered the same beer twice.
We then drove to Leuven and toured around there a bit before returning to the airport. There we had a Stella Artois, our last beer of the weekend.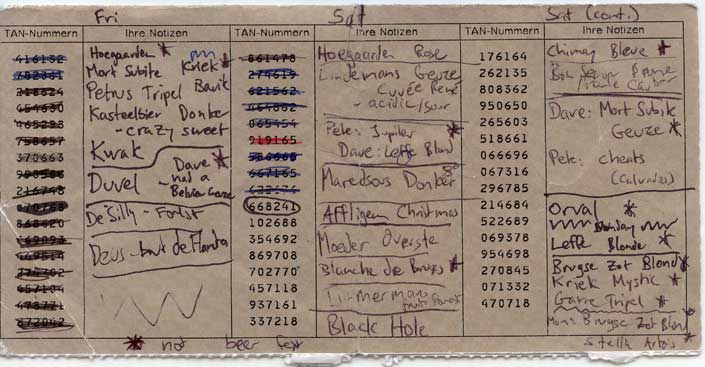 I had taken my TAN sheet with me, because I needed to do some banking business. However, a phone call to my bank revealed they had sent me a new list. So this one now became my notepaper for our beers sampled.
Dave posted pictures.
---