Pete's Log: Lazy man's S'mores
Entry #1690, Tue, June 15, 2010, 15:06 CEST (
Random Crap
)
(posted when I was 31 years old.)
---
I met some friends at the Isar on Saturday for some riverside grilling. Before biking over I stopped by a store for supplies. At the store I found marschmallows! Which obviously meant s'mores had to happen. Except that one generally can't find graham crackers in Germany. So I was going to pick up some cookies of an appropriate shape, plus chocolate, and just make do with that.
Instead, I found the following: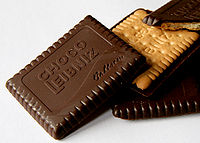 And thus the lazy German s'more was born.
---
This entry is rated 5.0000/5 based on 1 ratings. You have not rated this entry.
Comments for this log entry
Yum by Nairubi (Tue, June 15, 2010, 11:00)
Love it!
Untitled Comment by junodog (Wed, June 16, 2010, 08:18)
Excellent thinking.
Silly German Pete by montypy16 (Wed, July 21, 2010, 14:27)
Marshmallow doesn't have a "c"!