Pete's Log: clearing out the queue (all the way this time)
Entry #1772, Tue, March 17, 2015, 21:37 CDT (
Random Crap
)
(posted when I was 36 years old.)
---
On the Metra this morning, Jamie pointed out to me that I failed to blog last night. And thus my eight day streak came to an end. Oh well, it was bound to, and I'm pretty happy I made it that far.
Anyway, I figure if I'm gonna really get back into this "weblogging" thing, I should start off with a clean(ish) slate, and thus do that thing again where I clear out all my old postponed entries. Since there's a lot. Let me reuse the description from the last time I did this:
I've noticed I've accumulated a lot of postponed log entries again. Gonna just post a few of them without much more editing. Time-related words such as "yesterday" apply to sometime further in the past, none of this was written today. Except this paragraph.
---
ccfpd
On my way home today, I got a text message from Jamie:
We should name different parts of the woods- some ideas: garbage corner, dead racoon meadow, poop pond. Haha
We live in what is actually a rather nice spot, between a golf course and a section of the Cook County Forest Preserves.
I've learned a bit about the forest preserve, including that it is the oldest forest preserve system in the United States.
But I'm disappointed that there isn't more online about the forest preserve, seeing how Cook County is the second most populous county in the US and has a population larger than that of 29 U.S. states. Among the 5+ million residents of the county, surely there should be plenty who feel like posting about the forest preserve online.
But that's not to say that there aren't postings online about the forest preserve. Yelp has an interesting topic titled what do you do if your local forest preserve is really a "pervert" preserve. And this is not abstract internet fear mongering, but real concerns of ours. Our local piece of the forest preserve frequently has suspect individuals sitting in their parked cars, waiting for who knows what. And we suspect the poop at the poop pond Jamie was talking about is human poop.
So the forest preserve is both appealing and disgusting.
We took Boogs for an adventure on Sunday and didn't find a good spot to walk until our third try. Our first try was at Possum Hollow Woods. We parked, ignoring the cars backed into spots (which means only bad things, I've been informed - don't back into a parking spot in a Cook County forest), and headed out. We quickly noticed what looked like a sidewalk leading into the forest, but one that had seen significant decay. We followed it a while, until it made a 90 degree turn.
Here we spotted a coyote. We thought he would be scared of the three of us, but he decided to follow us. So instead of exploring the crazy network of abandoned sidewalks in the forest, we headed back to the car.
For our second attempt, we parked at the corner of 31st and LaGrange Road, not too far from Possum Hollow Woods. We found what looked like a path into the forest, but it didn't take long until we noticed that we were headed for what looked like somebody's camp site. So we decided not to disturb this forest dweller and moved on.
On our third try, we parked
---
what's all this then?
jnlp, jdni, ant, eclipse, tomcat, jdk, jre, swing...
January 22, 2009. A day with will live in javafamy
---
statistics
http://www.sfweekly.com/content/printVersion/1786487
It's time to face facts: San Francisco is spectacularly mismanaged and arguably the worst-run big city in America. This year's city budget is an astonishing $6.6 billion — more than twice the budget for the entire state of Idaho — for roughly 800,000 residents.
40% of food in america is wasted -- but what percentage elsewhere?
---
forgotten infrastructure
what infrastructure is most likely to be forgotten (and thus not maintained)
---
NATIVE_FULL_OUTER_JOIN

Oracle no_native_full_outer_join

select /*+ NATIVE_FULL_OUTER_JOIN */ some fields
  from (a subquery) solution_data
  full outer join (another subquery) reaction_data on some fields

---
free press
First spotted on Wronging Rights, the amazing self-penned obituary of Lasantha Wickramatunga.

http://www.transparency.org/
http://www.cpj.org/
http://www.rsf.org/

---
German words I thought of in English scenarios
Zweideutig
vervielfachung
(un)übersichtlich

---
music to check out
EL-Haru Kuroi
Ting Tings
Los Pikadientes de Caborca
turisas
LCD Soundsystem
Sigue Sigue Sputnik
---
Munich middle ring and construction
Like many German cities, Munich was pretty extensively damaged by bombing during World War II. It wasn't until August of 1949 that the city was cleared of rubble. After clearing the rubble, the citizens were faced with the choice of how to rebuild. Some cities chose to use the chance to modernize their inner cities. Munich mostly rebuilt the city as it had been, at least in the old city center.
Tourism certainly gained from this decision. Traffic, however, suffers from
The inner city was finally cleared of rubble on 30 august 1949
---
travels with Mamie
http://maps.google.de/maps?f=d&source=s_d&saddr=Zaubzerstra%C3%9Fe+47,+81677+Munich&daddr=Markbeinweg,+79395+Neuenburg+am+Rhein+to:Route+de+Spechbach,+68720+Illfurth,+France+to:Rue+des+Ecoles+to:Route+de+Spechbach,+68720+Illfurth,+France+to:K4962%2FStrandbadstra%C3%9Fe+to:Europaplatz+to:Zaubzerstra%C3%9Fe+47,+81677+Munich+to:Eschborner+Str.%2FL3006+to:B42%2FBleichstra%C3%9Fe+to:Eschborner+Str.%2FL3006+to:opelzoo+to:Bischof-Kindermann-Stra%C3%9Fe+to:Hauptstra%C3%9Fe+to:Eichkopfstra%C3%9Fe+to:Bahnstra%C3%9Fe+to:A81+to:T%C3%BCbingen+to:Altental%2FB28+to:48.400517,9.967475+to:Zaubzerstra%C3%9Fe+47,+81677+Munich&hl=en&geocode=FVaM3gId9ECxACmX_WVHZXWeRzGIIMR-CNFMpg%3BFe6A2QIdwG5zACn_2Emq7aCRRzHhY0KxwYIBNw%3BFTdy1wIda6xuAClDIcHL6o-RRzHiux233Kpt1w%3BFfCs1gIdFGxuAA%3BFTdy1wIda6xuAClDIcHL6o-RRzHiux233Kpt1w%3BFYjj2gIdZUp8AA%3BFUOP1QIdauOTAA%3BFVaM3gId9ECxACmX_WVHZXWeRzGIIMR-CNFMpg%3BFVl-_QIdlcqCAA%3BFVSb-gIdBfx4AA%3BFT9-_QIddcqCAA%3BFUW9_QIdsXKBACFIESlPttAdwQ%3BFUuk_QIdTkeBAA%3BFY-4_QIdkzKBAA%3BFeyK_QIdbr2CAA%3BFaSs_QIduzqBAA%3BFQaU5QIdQr2HAA%3BFZhm5AIdwh-KACmB0M3t1PqZRzGNpzP-zq4IrA%3BFXSy4gIdLzWWAA%3B%3BFVaM3gId9ECxACmX_WVHZXWeRzGIIMR-CNFMpg&mra=dme&mrcr=16&mrsp=19&sz=15&via=16,18,19&sll=48.4016,9.964643&sspn=0.014673,0.034118&ie=UTF8&ll=48.843028,9.470215&spn=3.723573,8.734131&t=h&z=7
---
An Optimist's Manifesto
http://blogs.worldbank.org/publicsphere/paying-zero-public-services
An Optimist's Manifesto
Ozone hole:
Since the adoption and strengthening of the Montreal Protocol has led to reductions in the emissions of CFCs, atmospheric concentrations of the most significant compounds have been declining. These substances are being gradually removed from the atmosphere since peaking in 1994, the Effective Equivalent Chlorine (EECl) level in the atmosphere had dropped about 10% by 2008. It is estimated that by 2015, the Antarctic ozone hole will have reduced by 1 million km² out of 25 (Newman et al., 2004); complete recovery of the Antarctic ozone layer is not expected to occur until the year 2050 or later. Work has suggested that a detectable (and statistically significant) recovery will not occur until around 2024, with ozone levels recovering to 1980 levels by around 2068.
Prague:
Dad never went there. It was behind the iron curtain. I traveled there for 20 euro worth of train tickets without even having to show my passport.
Fucking Video chat!
Demographics - peak population in 2050
---
Spring 2011
Today is the summer solstice of 2011. At least in the Northern hemisphere. Time for an update.
Branden got to come to Munich for work in April. So he added a few days to either side of the trip. He arrived on Good Friday, so we hung out for the Easter weekend. Friday we had a grilling session by the Isar. The rest of the weekend featured Starcraft, Ultimate Frisbee, Hüttnwirt, and a visit to Heimstetten to see their new maypole: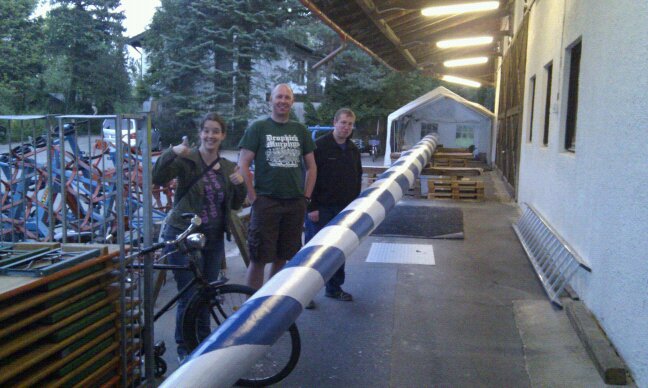 They were going to put it up on May 1, and had to guard it until then. They had beerbenches and such set up to encourage people to come out, figuring the more people that are there, the less likely the pole is to be stolen.
During the next week, Branden had to work out in Garching, and I headed to Düsseldorf again for a couple days.
Back to Düsseldorf, then Ludwigshafen, then Colorado! Mom and Dad pick me up, we drive to Cheyenne. Next day we drive to Bozeman.
next to kushi
---
Downtown Struts
Even after a couple dozen times, listening to Victoria! by the Downtown Struts evokes a strong feeling in me of a summer road trip across America.
---
al-qaeda spam
This was a new one for me...

From: al-qaeda network 
Subject: I am very sorry for you

Attn,

I am very sorry for you, is a pity that this is how your life is going
to end as soon as you don't comply. As you can see we are the members
of the Deadly Networks in the world, which is responsible for the
bombing of twin towers in America on Sept. 11th and the
bombing of London transport services on July 7th (AL-QAEDA NETWORKS
WORLDWIDE), I don't have any business with you, my duty as I am
mailing you now is just to KILL you and I have to do it as I have
already been paid for that.

Someone whom you called your friend wants you dead by all means, and
this person have spent a lot of money in this venture, This person
came to us and told me that he wanted you dead and he provided us with
your name, picture and other necessary information's we needed about
you.

So I sent my boys to track you down this including bugging of your
phones with satellite tracking devices and they have carried out the
necessary investigation we needed for the operation on you, and if you
doubt this information am going to give you all the necessary
information about you back to you in your next reply so that you can
believe me, and my boys are really on you but I told them not to kill
you that I will like to contact you and see if your life is important
to you and the one of your family. I called my client back and ask him
of your email address which I didn't tell him what I wanted to do with
it and he gave it to me and I am using it to contact you now. As I am
writing you this mail my men are monitoring you and they are telling
me everything about you.

Now do you want to LIVE OR DIE? Since all program has be made and draw
to kill you. Get back to me now if you are ready to pay some fees to
spare your Life, $20,000 is all you need to spend in this process you
will first of all Pay $10,000 and then I will send a tape to you which
I recorded in every discussion I had with the person who wanted you
dead and as soon as you get the Tape, You will pay the remaining
balance of $10,000. If you are not ready for my help, then I will
carry on with my job straight-up.

WARNING: DO NOT THINK OF CONTACTING THE POLICE OR EVEN TELLING ANYONE
BECAUSE I WILL KNOW ,REMEMBER, SOMEONE WHO KNOWS YOU VERY WELL WANT
YOU DEAD! I WILL EXTEND IT TO YOUR FAMILY, INCASE I NOTICE SOMETHING
FUNNY ABOUT YOUR TELLING THE SECURITY ABOUT IT BECAUSE A GOOD LOOK IS
OUT YOU AT THE MOMENT. DO NOT COME OUT ONCE IT IS 8PM UNTIL I MAKE OUT
TIME TO SEE YOU AND GIVE YOU THE TAPE OF ALL DISCUSSION WITH THE
PERSON WHO WANT YOU DEAD THEN YOU CAN USE IT TO TAKE ANY LEGAL ACTION.
GOOD LUCK AS I AWAIT YOUR REPLY.

It's been almost six months since I got that email, and so far no follow up. But maybe posting it here will remind them that they have unfinished business with me. Uh oh.
---
blogging schedule

X 28.01. CATS
X 29.01. 2012 music
X 30.01. drunk pete
X 31.01. more fvwm, kernel forth interpreter

Dominion, games?
more fvwm
esgerbeast issues
al-qaeda spam
are my log entries still really random?
don davis
fieldstripping pens
02.02 che sudaka
04.02 super bowl
10.02 diplomacy

---
synopsis (part 1)
This morning (as the term is understood by people who sleep when it's dark out) I made four sets of tracks in the snow between my apartment and the castle point mail drop (I forgot I needed a stamp the first time -- stupid Pete). There was enough undisturbed snow for me to set my tracks next to each other, which reminded me for whatever reason of 101 dalmations. I thought about wandering out yet again to take some pictures of my tracks. I thought I'd call the pictures "Pete versus the cars." But I don't think my camera would be capable of capturing what the tracks looked like to me. I wonder if words did any better.
I'm killing time. I have a goal to stay awake a really long time in order to coerce my sleeping patterns into something more acceptable. Surprisingly, considering my recent behavior, I'm rather alert for having been awake for more than 20 hours now.
Note to me: remember the pinkie swear you made.
Currently I have only two complaints about my journal. First, I wish I had started journaling earlier. Second, I'm frustrated that I'm still inhibited about making as many journal entries as I'd like to. The solution to the latter is to keep reminding myself that subscribers voluntarily subject themselves to my madness. The solution to the former is to figure out time travel. Since I'd rather leave such undertakings to smarter people, I'll instead try to record memories of pre-Pete's Log events as I think about them, in order to get them saved to a more permanent medium while they're still as fresh as possible.
On that note, I'm going to begin with a brief biography. More specific memories can be added later. It's good to get the framework out of the way first.
I was born on (redacted), West Germany. How did this event come to take place? My Mom, Teresa, is a native of Colorado. She attended Saint Mary's College in Notre Dame, Indiana. After college, she went to spend a year in Germany. Her parents had just moved there because her father had been stationed at Rhein-Main air force base in Frankfurt. He had joined the air force while Mom was in college. Mom got a job with Aid to the Church in Need (Kirche In Not/Ostpriesterhilfe), an "international pastoral aid organization of the Catholic Church." My Dad, Jozef, is Belgian. After his education he began a career in finances working for banks in Belgium. At some point he was offered the position as financial director of KIN. When he took that position my Mom was already working there. Thus my Mom's year in Germany turned into seventeen, and fate ensured I would get my chance to wreak havoc upon the world.
There are two stories I remember of my birth. The first is that some sort of vacuum apparatus was used to assist in the process. The second is that the German doctors took me off somewhere in a hurry. Mom, knowing very little German at the time, wanted to know if I was a boy or a girl. They said I was "ein Soldat," which means soldier. My Mom found that answer less than useful.
When I was born, my parents lived in a tiny house on the KIN campus in Königstein. I remember that later we had fun driving by where that house used to be and marveling at the parking lot it had become.
By the time I was a year old, I'd seen various European countries as well as the United States. My early impressions of those places must not have been so good. I don't remember them at all.
On (redacted), Mamie joined our family. I don't remember life before Mamie, so as far as I'm concerned, she's always been around. About that time we moved to Hardtbergstrasse 13 in Steinbach am Taunus. That was to be our address for the rest of our stay in Europe.
Annie joined us on (redacted). I have vague memories of life before Annie, but not many.
Many of my early memories center around KIN. Mom had quit working there when I was born, but Dad kept working there until we left Europe. It seems we spent a lot of time there. Many of the people working there were very kind to us Rijks kids. Some KIN employees lived on the KIN campus with their families, so there were others kids for us to play with there. I also remember spending a lot of time with three nuns who shared an apartment across the street from KIN: Sister Yvonne, Sister Veronica, and Sister Paula. I have very fond memories of those three women.
At home I learned English. Since KIN was international, I was exposed to a variety of other languages, but the next one I would learn would be German. I was forced to learn German when I began Kindergarten. In Germany Kindergarten is what Americans call preschool. The Kindergarten I attended was Catholic. It was located on the edge of town, next to some farm fields.
---
Now - for the first time in forever - my queue of postponed entries is empty. Because unlike last time, this time I just copied all of them into here for your pleasure, including one that I apparently wrote back when I lived in Castle Point, a.k.a. sometime between 2000 and 2002.
---
Nobody has rated this entry.