Pete's Log: Riot Fest 2022 Day 2
Entry #2147, (Music)
(posted when I was 44 years old.)
---
Jamie and I made our way to day two of Riot Fest today. We got there as gates opened because I wanted to see Skating Polly at noon. They did not disappoint.
We then grabbed some lunch and caught a few bands we didn't know, including Mothica, Bully, Charlotte Sands and Thick. We liked Thick. Then managed to walk past Fear as they were performing "I Love Livin' in the City" of "SLC Punk!" soundtrack fame. We alternated more food and wandering and catching bits of various more bands: Together Pangea, JXDN, The Get Up Kids and Alexisonfire. Of those, The Get Up Kids was the only band we knew.
It was a fun time. Highlight of the day was definitely Skating Polly.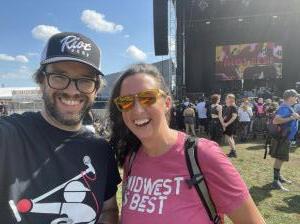 We counted eight kilts. For a while it seemed we might hit double digits, but it wasn't meant to be.
---