Pete's Log: Married Life is the Best Life
Entry #2157, (Life in General, Travel)
(posted when I was 44 years old.)
---
I painted my nails today for the first time in many years. It amuses me. Jamie and I were at Target the other day and I had mentioned recently that I missed painting my nails. One of the things I love about Jamie is that she encourages my absurdity, so nail polish was spontaneously added to our shopping cart.
---
Last Saturday we made our way to Kenosha, Wisconsin. We didn't have much of an agenda. Before beginning our trek, Jamie suggested mystery snacks and for the drive up we continued listening to the Murderbot Diaries, this time "Rogue Protocol." So the drive alone was already an excellent time.
We started our time in Kenosha at Blue House Books, which is a well curated independent bookstore in downtown Kenosha. A local author was there promoting her book and handing out bookmarks to patrons. We felt guilted into buying her book, a dystopian novel set in the "Christian States of America" in which every man is apparently evil. I'm about 50 pages in and while the writing at a sentence-level is actually pretty decent, the apparent need to include every dystopian trope there is makes the book hard to take seriously. But the author was very excited to sign the book for us, and it felt nice to support her. Her mom was there with her and also thanked us. Overall an excellent bookstore experience.
After the bookstore, we found several tempting items at an antique shop but nothing was quite enticing enough to actually buy. We then grabbed lunch and flights at Rustic Road Brewing Company. The food and beers were decent. Of the beers, we both liked "Spruced Up" the best and so we grabbed a couple crowlers of that to go. Jamie won the "which gadget behind the bar seals up the crowler" competition.
We then found ourselves in a store I would describe as real-life Etsy where we bought a few knick knacks. Finally we grabbed some coffees before heading to the lake front. It was a pleasant (if slightly windy) day and it was fun to walk along the lake.
After the lake we made our way home. It was a fun outing and proved yet again that Midwest adventures with Jamie are the best. There are so many towns around here that are great adventures if you go with the right company. And I'm lucky enough to live with that company.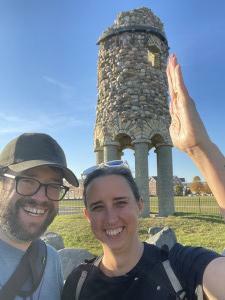 ---
I asked Jamie tonight what her favorite Cure song is. She said "Pictures Of You" which is a perfectly acceptable answer. Right now my answer would be "Lullaby."
---