Pete's Log: Observations from home
Entry #1940, Fri, June 04, 2021, 15:56 CDT (
JB
,
Travel
)
(posted when I was 42 years old.)
---
After one last hotel stay and a few more playgrounds, we made it home on Tuesday.
Jamie and I are pleased and proud of how well JB and Boogie traveled. It was definitely a challenge, but they rose to it. And so did we. Some of the lessons learned probably won't apply to many (or any) future trips since as JB grows she'll need less.
Omaha was a letdown in terms of playgrounds. Coralville, Iowa has a real nice playground near the Interstate. Jamie and I discussed creating a website for finding playgrounds on road trips.
Our last hotel stay was in West Des Moines. The hotel was having happy hour when we got there and was serving beer. It was just us and the hotel staff, but it felt nice.
Home feels weird and nice. It's busy and loud here. The village of Brookfield has more people than all of Gunnison County. And the population of Colorado only surpassed the population of Cook County in the past few years. Traffic noise and airplane noise and lawn care noise are pretty overwhelming after no longer being used to it.
At Target and Trader Joe's only about half the staff wear masks anymore. Mask use among customers is still higher, but I imagine wearing a mask for an entire work shift is more of a pain than just wearing it for the length of a store visit. Supposedly Illinois is opening up "fully" next Friday although mask use in some scenarios will still be required. It is nice to see faces again.
JB returned to daycare and was moved up a level. She's had lots to tell us about it and seems to be doing well with that. She already knows several kids in this class from when they were still in the toddler's class with her.
More notes from the road:
JB was really into seeing wind turbines (mostly in Iowa) and would tell us if they were spinning or not
She also would inform us when the road got bumpy ("The road is a little bumpy")
In Fairplay, CO, we met a group of older folks who were also on a road trip. They were eating lunch at the playground we were at. They informed us they always stop at that playground since they know it has picnic benches and porta potties. We felt a connection to that.
Having the iPad for JB was a great help on the trip, but it got used less than anticipated.
And finally, my stool is back home!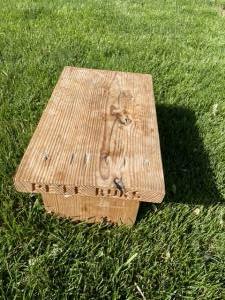 This stool was gifted to me in the early 90s when we still lived in Germany. It had been with me ever since, from CB to ND to MD to Munich. But when I left Munich I left it with Mamie with the intent of getting it back some day. And then I sort of forgot about it. But Mamie's possessions from Germany arrived in CB the day before we left, and Mamie had shipped my stool back! Mamie! I was unreasonably excited. So obviously we had to make room for it in the car. Jamie had been smart enough to discourage us from over-packing on the way out, since she knew we'd have stuff for the way home. And she was right. And we made it all fit. And now the stool is where it belongs.
---
Nobody has rated this entry.