Pete's Log: Notes from the front
Entry #1672, (Travel)
(posted when I was 31 years old.)
---
One last observation on my recent trip to London: I was constantly amazed by how dirty London is in comparison to Munich. I also couldn't help but notice just how many security cameras there were everywhere.
Speyer
I was invited to participate in a culinary tour of
Speyer
on December 2. There are probably hundreds of cities like Speyer in Germany: historically significant, but no longer famous. It was a neat evening, touring around the old city, learning about its history, and eating at various restaurants along the way. Four emperors of the Holy Roman Empire are buried in the Speyer Cathedral. Not too shabby for a city I hadn't heard of.
Feuerzangenbowle
This December had mostly been too warm for me to feel in the Glühwein spirit. But on Dec 4 we did manage to partake in a few Feuerzangenbowlen. Munich in December is definitely something that should be experienced.
Tübingen
Diana has been bugging me to come visit her in Tübingen for a while. So on Dec 6th, I finally did. It was the last day of chocolART, which claims to be the largest chocolate festival in Germany. So we checked that out some. It was like a Christmas market, except with lots of chocolate.
I also helped Diana with some practical things, such as figuring out how to top up the balance on her prepaid cell phone. All in all an entertaining, if somewhat tiring day: for eight hours in Tübingen, I spent seven hours on trains. But like Speyer, Tübingen is another one of those cities I probably never would have visited, so it's good I had a reason to go. The old town of Tübingen is definitely worth a visit.
Prague
I've been wanting to visit Prague ever since I moved to Munich. Last weekend I finally found a good excuse: Gogol Bordello was playing there on Dec 11th. So I took Friday off, talked Tony, Kevin, and Robin into coming along, and went to Prague!
We took a train from Munich to Prague, departing at 8:44. We brought a case of Augustiner and plenty of snacks for the trip. By the time we hit Plzen, we needed to replenish our beer stock, and fittingly bought some Pilsner Urquell. We arrived in Prague at about 15:00, checked in at our hostel (Sir Toby's -- highly recommended), and then checked out the area around the hostel and grabbed dinner.
The concert was amazing. I think Gogol Bordello is the first band -- other than local/college bands -- that I've seen live twice. The show alone made the trip worthwhile. High-energy show, great crowd. I was in the middle, about three rows back from the stage the entire time. It was sort of mosh light. Lots of jumping and bumping, but not high impact.
After the show we returned to the hostel for a beer in the hostel bar. Saturday we did some touristing, including a guided walking tour. The evening again ended in the hostel bar. On Sunday, we took a 9 am train back to Munich. By the end, we were all exhausted, but it was a good trip. I enjoyed me a variety of Czech beers, including: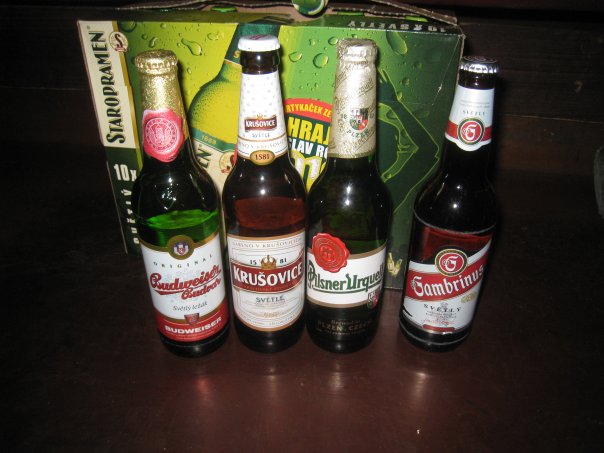 I recorded another timelapse video on the way home from Prague:
It's a stretch just past Regensburg. I would have preferred to film while Still in Czech, but we had a few issues with the ticket collector that needed sorting first. I filmed until my camera battery died.
---
Diana is in Munich for her Christmas break. We went Christmas marketing yesterday. She did not try any Feuerzangenbowle, though.
It doesn't look like I'll be leaving Germany anymore before the end of the year, so here's the country count for 2009:
Japan
Germany
England
USA
Ireland
Austria
Switzerland (just barely)
Czech Republic
That's three continents!
---