Pete's Log: Happy Anniversary, Jamie!
Entry #1984, Wed, August 25, 2021, 21:23 CDT (
Life in General
)
(posted when I was 43 years old.)
---
Jamie and I have been married three years today!
We celebrated by going on an antiquing lunch date. Jamie came up with the genius idea of visiting La Grange Park Antique Mall and trying to find each other leather gifts, since three years is apparently the leather anniversary.
After looking at a bunch of leather jackets, purses, hats, suit cases, leather-bound books, and various leather knick-knacks (and doing plenty of laughing), we settled on a pair of bead-covered leather bracelets. They don't fit either of us, but they're small and they match and we can each put one on our desks as reminders. Seemed like the best option after perusing everything else.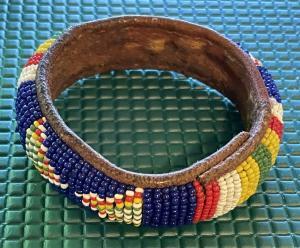 We also bought a Pyrex butter dish with a fun vintage design. We've been wanting one for a while so we can leave a day's worth of butter out of the fridge for easy spreading on bread.
Afterwards we picked up tacos from a little joint across the street from the antique mall. It was a great lunch date. It's been a great three years.
---
This entry is rated 5.0000/5 based on 1 ratings. You have not rated this entry.